To order your very own set of Pick and Draw cards simply click 'Add to Cart' below and then sit back and wait!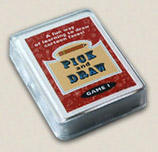 Pick and Draw Game
The card game that teaches you how to draw cartoon faces!
Please Note:
No orders will be shipped between
Sept. 2 - Sept. 22
We are sorry for the inconvenience
Individual Pack
$10 + Shipping
Available Worldwide!
Pack of 3 Games
$30 Free Shipping
US Customers Only.
Buy 4 Get 1 Free $40 + Shipping
US customers:
International customers: